865 Academy Close
(ex-Park St, 33 South Park, 33, 865 Heywood Av)
Built 1883
Designated 2009
For: Charles & Nellie Gabriel
Builder: Charles Hayward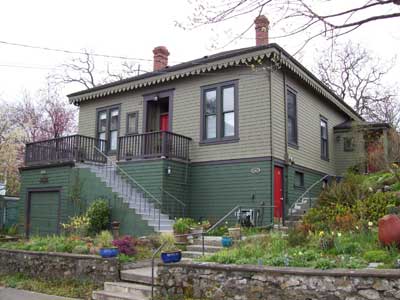 ARCHITECTURE:
This 1-storey cottage is an early example of a simple Victorian middle-class dwelling of the late 19th century. There are relatively few 1870s and 1880s homes remaining in Victoria. The lot backs on to Beacon Hill Park and slopes down towards Academy Cl, allowing for a high basement at the front. The house has a low-pitched pyramidal hipped roof with two corbelled brick chimneys. The fascia is decorated with scroll-sawn wood trim. The structure has a simple rectangular shape with an angled bay window on one side and a wrap-around hip-roofed side-entry extension on the other. The exterior is clad in wood shingles with a belt course separating the basement level. Tall narrow windows are double-hung sash. A small recessed entry shelters the front door and its transom window. The side-facing concrete stairs leading to the front porch above the garage are later additions. A stone garden wall along Academy Cl is capped in concrete. 
ORIGINAL OCCUPANTS:
This house was built in 1883 for Charles and Nellie Gabriel who lived here until 1890. Daily Colonist, 27 May 1883: "New Dwellings – all over city, latest is handsome 6-roomed cottage adjoining Beacon Hill Park, Mr. Hayward (1003 Vancouver St, Fairfield) has contract to build for Mr. Charles Gabriel."* According to census records, Charles Gabriel was born in France and Nellie, in the United States. In 1882-83, Charles was an accountant with Findlay, Durham and Brodie, wholesale commission merchants and insurance agents. From 1884-90, he was the proprietor of the Japanese Bazaar at Government St (see 1029 Pakington St, Fairfield). In 1886 Charles formed the Tumbo Island Coal Mining Co with prominent businessmen William Parsons Sayward and Thomas B. Hall as financial partners. From 1890, Charles was living on Tumbo Island and managing the mine. However in 1893 the Gabriels' 18-year-old son Charlie was drowned in a boating accident, and at the same time, the mine shaft began filling up with water faster than the pumps could take it out. Charles gave up on the mine, but lived on Tumbo until 1896; he disappeared from directories in 1897.
OTHER OCCUPANTS:
The Sisters of St Ann (835 Humboldt St, Fairfield) bought the house in 1895, and rented it. Mining engineer James Brady lived here in 1892, painter John Bowes in 1898. By 1900 Alfred James Morley (1861-1958) and his wife Mary (Goodall, 1839-1916) lived here, buying the property in 1904. Born in England, Alfred, a civil engineer, lived in California before Victoria, and was proprietor of Victoria Coffee & Spice Mills until 1909. He was mayor of Victoria in 1905-07, 1909-11 and 1913, and is credited with establishing the Sooke Lake water system, introducing large scale street paving and the cluster lights still in use today. The Morleys sold in 1911 and moved to 1246 Montrose, where they lived until their deaths.
In 1911 Dr. Israel Wood Powell (1836-1915; 565 Michigan St, James Bay) bought this as a rental property. Powell's family were early Welsh Puritan settlers in America who came to Canada as United Empire Loyalists after the American Revolution. He grew up in Port Dover, went to McGill University at 20, and became a doctor. In 1862 he travelled by way of Panama to Victoria. In 1863 he married a New Zealand girl, Jane "Jennie" Branks (1845-1928). They lived at the corner of Douglas and Broughton c.1888, when they moved to Oakdene at Vancouver and Burdett. With a family interest in politics (his grandfather, father and brother were MPs), he was elected to the Colonial Legislature in 1863. He became head of the Canada Party, advocating reform, responsible government, free education and confederation with Canada. He was appointed the first Superintendent of Education after the 1866 union of the Colony of BC. In 1869 the new Governor Anthony Musgrave fell from his horse and Dr. Powell, ministering to him, convinced him to send a strong delegation to Ottawa. Terms were agreed in 1870 and BC joined Canada in 1871. Powell's friend, Prime Minister Sir John A. MacDonald, appointed him BC's Superintendent of Indian Affairs. Powell River and Powell Lake were named for him.
In 1864 Powell organized Victoria's first militia, the Victoria Voluntary Rifles, becoming a Lieut-Col. He was a shrewd early investor in land in Victoria and at Burrard Inlet (Powell St in Vancouver is named for him). He was the first Chancellor of the University of BC in 1890. He was Masonic Grand Master for BC from 1871-75.**
On Powell's death, 865 Academy Cl was purchased as rental property. Geoffrey Hitzler Walton (Barbados 1878-1951) immigrated to Canada in 1898 to farm in Manitoba. He and Helen Josephine Lyon (1878-1961) married in 1906 and came to Victoria in 1912. They bought the historic George and Annie Deans farm, later 3099 Richmond Rd in Saanich. The barn, now 1885 Lansdowne Rd, is registered heritage and owned by their daughter, sculptorPeggy Walton Packard. In 1917 Geoffrey founded Sidney Lumber Ltd. He was president until c.1949 and prominent in the Masons, Kiwanis, Community Chest, Salvation Army, and St. Luke's Church. He won trophies in tennis, badminton and golf, and was an ardent cricketer. 
After various residents, carpenter William Atkinson Armstrong (1868-1934) and his wife Mary Jane (Barlow, 1868-1923) were the owners and occupants c.1920-24, then moved to North Vancouver. Winifred B.M. Frost, a waitress at the Gem Restaurant, lived here in 1925-26. Northwest Creamery superintendent Herbert Spark Batey (1886-1983) and his wife Doris Louisa Sayles (Crowe, 1898-1986) lived here in the late 1920s until c.1931.
John Trevelyan Gawthrop (1894-1955) and Marie Josephine (Costigan, 1893-1965) lived here in the 1930s. John was a BC Government relief investigator, then business manager at Colquitz Mental Home. Born in London, England, John came to Canada in 1912 to Alberta; Marie was from Calgary. They came to Victoria in 1930. 
The house had various occupants by in the 1940s. Retirees William Charles (1885-1968) and Nellie Alice (Latham, 1888-1974) Alder bought it c.1950 and lived the rest of their lives here. Born in Portsmouth, England, they came to Canada in 1904 and Victoria in 1942. William was a maintenance worker. In 2008 owners Bruce Gillespie and Patricia Gibb asked the City to designate the house heritage. Bruce is descended from both the Wards and the Gillespies of Highwood, 1021 Gillespie Pl (Rockland).
* Leona Taylor and Dorothy Mindenhall, "Index of Historical Victoria Newspapers," Victoria's Victoria, http://www.victoriasvictoria.ca/, 2007.
**research from article by J. Lawrence Runnells, 1974
Information courtesy of The Victoria Heritage Foundation